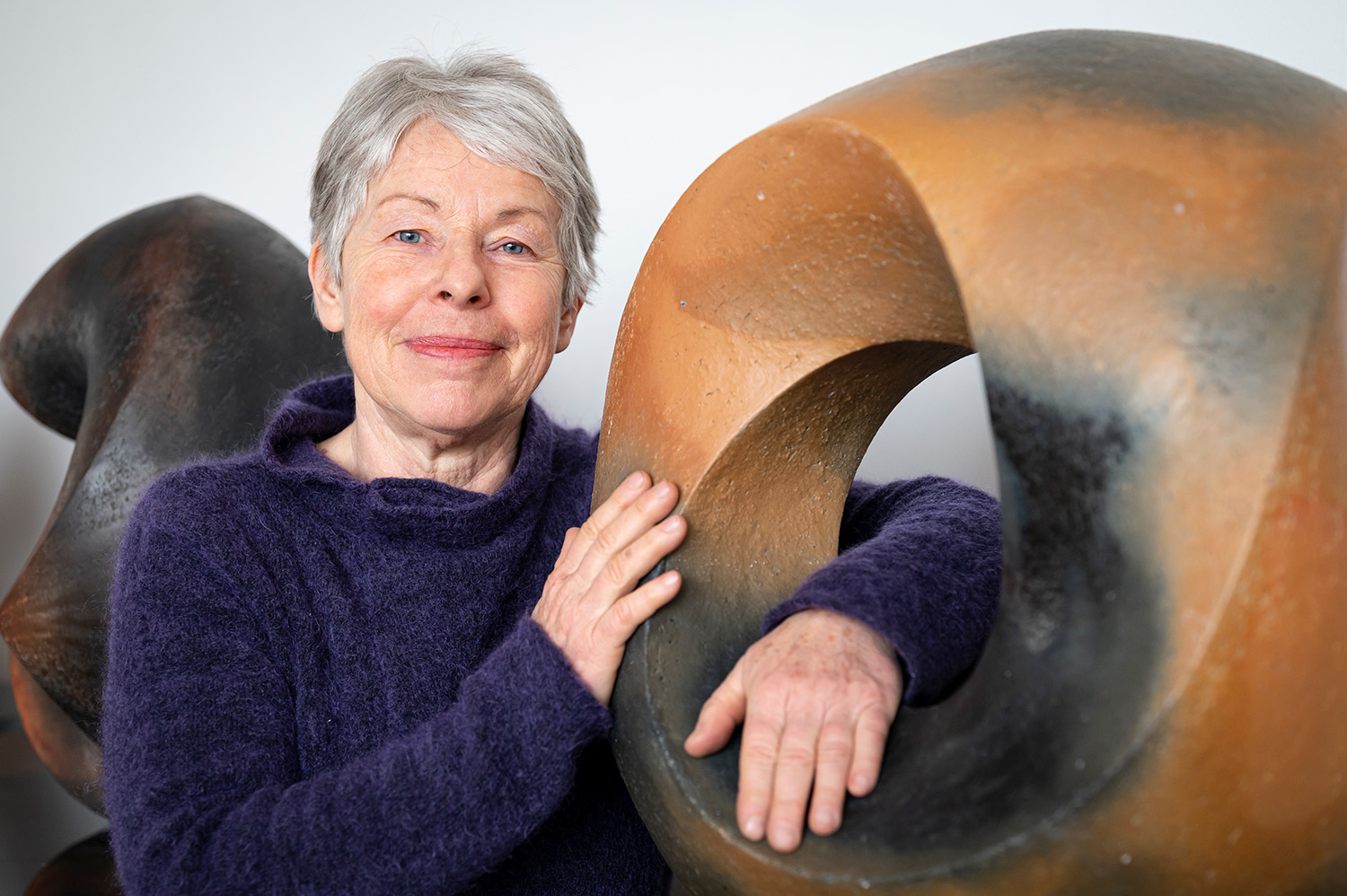 SABINE CLASSEN
Sabine Classen studied design at the Pforzheim Technical College (Fachhochschule fur Gestaltung) from 1976 – 1978.
From 1979 – 1983, she studied at the Academy of Art (Freie Kunstakademie) in Nürtingen, specializing in thrown and coil- and slab-built pottery, as well as figurative sculpture. This was followed, in 1986 – 1990, by a period of further study in liberal arts under Prof. Ralf Busz and Vera Vehring at the University of Kassel.
Meeting with contemporary artists at the Kassel Documenta, Sabine Classen experienced both controversial discussions and a fertile medium for further work.
An extended stay in Japan gave her insights into the Asian culture.
As a result, she continued with numerous exhibitions and projects in fire sculpture. In 2001, the "Glowing Pyramid" for the city of Karlsruhe was created and admired by more that 45,000 visitors. Commissions for public artworks followed both in Germany and abroad.
Skulpturen, Projekte, Ausstellungen (Auswahl)
"3 Gates", large walk-in sculpture in the Botanical Garden of the University of Mainz
"Herzmal", sculpture for the urn grave field of the district cemetery Karlsruhe-Grötzingen
"OTTO", life-size figurative sculpture, monument for the stoneware tube industry, Harsch company, Bretten
Invited artist at the Ceramics Inter-local Network Workshop in Icheon, South Korea
"Sommer-Werk-Stadt", organization and management of the project "Open space for ceramic craftsmanship in the city center", Unternehmen Mitte, Basel / Switzerland
Solo exhibition in the Galerie of Unternehmen Mitte, Basel / Switzerland
Solo exhibition in Guthausen, cultural center and living space in contact with nature, Schwandorfer Hof, Salem
"3 x ∞ + 2 x O", Feuer-Skulptur, Internationales Keramikfestival Aberystwyth/Wales, Universität Aberystwyth
"Spirale und Kreisbögen", Feuer-Skulptur zum 1. Höfner Skulpturensymposium, Seeanlage Pfäffikon, Zürichsee, Schweiz
"Aus Bewegung wird Form", Karlsruher Institut für Technologie (KIT), Fakultät für Architektur, Institut Entwerfen, Kunst und Theorie, Einzelausstellung zur 10. Tagung der DGFGG "die basis der vielfalt – geometrie als grundlage und anregung des denkens"
"32-strahlige umstülpbare Pyramide", ZKM│Zentrum für Kunst und Medientechnologie, Karlsruhe, Projektvorstellung
"Die kleine Form 2", Stiftskirche Sunnisheim, Sinsheim, Ausstellungsbeteiligung
"Fächer-Pyramide", Entwurf und Gestaltung der Skulptur für den Verein der Völkerverständigung, Karlsruhe
20. Künstlermesse Karlsruhe, Beteiligung
Ehrenmal für Otto Dullenkopf, Oberbürgermeister a.D. und Ehrenbürger der Stadt Karlsruhe
"Skulptur und Bewegung", Installation im Nationaltheater Mannheim, mit dem Bewegungschor der Oper unter Leitung von Luches Huddelston Jr.
"Sculpture for Tsunami Garden", Monaghan / Irland
"Tsunami Garden Project", Monaghan / Irland
"Nimm, lies", Skulptur für das Landgericht Karlsruhe
Wandgestaltungen in den Foyers der "Neuen Messe Karlsruhe"
"Anwesend – Abwesend", Projekt für die Keramikbiennale in Kafpenberg / Österreich
"Barbara", Skulpturen-Projekt für die Klosterruine der Gemeinden Langensteinbachs
"Glühende Pyramide", Projekt für Karlsruhe, vor dem Schloss zum Stadtgeburtstag mit 45.000 Zuschauern
"Die Riesin", künstlerische Gestaltung der Außenanlage der Median-Reha-Klinik Bernkastel-Kues
"König Drosselbarts Töchter", Keramikmuseum Westerwald, Höhr-Grenzhausen, Feuer-Skulptur zum Museumsfest
"Pyra, die Feuergeborene", Skulptur für die Majolika Manufaktur Karlsruhe
"Feuer-Wort-Form", Museum Ettlingen, Installation zu den Landes-Literaturtage Baden-Württemberg, mit Tanzaufführung von Olaf Schmidt, Ballettdirektor des Badischen Staatstheaters Karlsruhe; Skulpturankauf durch das Regierungspräsidium Karlsruhe
Fünf Keramiker aus der Schweiz, Frankreich und Deutschland, Galerie Trefzer, Gresgen / Dreiländereck
"VIVE", Feuer-Skulptur, Gresgen
"Revolution", Feuer-Skulptur vor dem Schloss Karlsruhe, Landesmuseum
"Gewalt geht vor Recht", Landgericht Karlsruhe, Feuerskulptur
"Drei Tore", Großskulptur Außengelände Majolika-Museum Karlsruhe
"Hommage à Else Lasker-Schüler", Oberrheinisches Dichtermuseum Karlsruhe, Ausstellungsbeteiligung